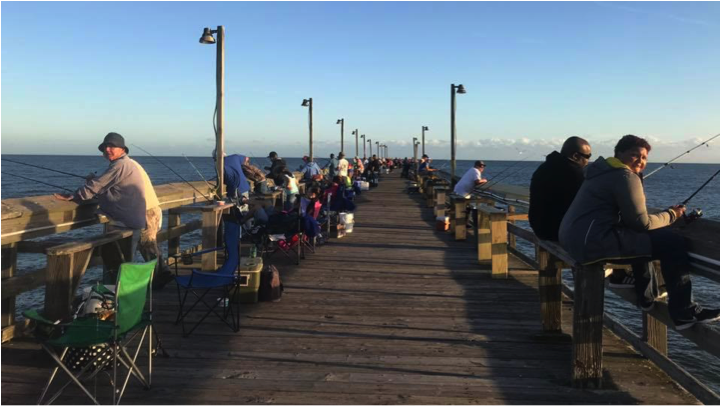 Ocean Isle Beach Fishing Pier is a great spot for fishing, you can bring your own or rent fishing equipment. Pier store offers what you need to reel in a fresh catch or two, options to purchase rods, reels, tackle, bait, and more. Pier staff are happy to guide newcomers on what's biting and the best rigs and bait to lure them in.
Fishing passes can be purchased for daily, weekly, or for season fishing. Fishermen can cast off the pier using the pier's fishing license. The pier does not sell fishing licenses for off property fishing. There is a refundable $25 deposit on rental rods. Our rods can only be used on the pier. A number of fresh saltwater catches can be reeled in from the Ocean Isle Beach Pier, depending on what time of year a fisherman comes to visit. Speckled trout, bluefish, flounder, cobia, sea mullet, pompano, spots, tarpon, sheepshead, and croakers are all popular seasonal species for bottom fishermen, while king mackerels are an especially targeted treat for many anglers. The cooler months of fall and spring bring seasonal red, black and puppy drum. Bait such as Shrimp, Mullet, Redworms, Bloodworms, and Squid can be purchased at the pier.     
Check the pier message center for more information about the Fish of the Month Contest. Every month the fisherman with the biggest catch of that month's species wins $25! Additional fishing tournaments will be launched throughout the year, make sure you like our Facebook page so you don't miss these announcements.