Whether you're planning a quiet couples getaway or a fun family vacation, we've assembled a complete vacation activity guide to help you plan your next vacation to the Carolina coast!
Free Summer Concerts
What's better than an outdoor concert? A FREE outdoor concert! All summer long, all over Brunswick County there are great bands playing free shows featuring the best in beach music, rock n' roll, Motown, country, oldies, and shag! All you have to do is show up! You can find out the schedules, the locations, and the band playing on the Coastal NC websites or by searching for Community Events on the Brunswick Parks website
http://www.brunswickcountync.gov/
Museum of Coastal Carolina
A visit to the Museum of Coastal Carolina is a treat for all ages. With interactive programs and exhibits on coastal reefs, marine life, and even sharks, the whole family will have a blast! The museum emphasizes all of the wildlife and marine life that can be found along the coastal area of North Carolina and hopes to educate visitors on how to preserve it.
The museum provides fun activities like summer camps, touch tank feedings, beach bingo, and arts and crafts for kids! Make sure you check it out on your next vacation!
Ingram Planetarium
Interested in Science? Head to Ingram Planetarium in Sunset Beach and check out all they have to offer! The planetarium offers a state of the art Sky Theater showing live star shows and laser light shows set to Pink Floyd, The Beatles, U2, the Best of Country Music, and Metallica. They also have a Hurricane Simulator, step inside and experience what it's like to be inside of a real hurricane with winds ups to 78 mph.
There are lots of exhibits to teach everyone, young and old, about space and our solar system. The best part about Ingram Planetarium—it's all free! That's right, admission is free, so stop in and learn about the great unknown.
Planet Fun Bowling & Arcade
Need a break from the beach? Take your kids to Planet Fun Bowling & Arcade for some family fun! Planet Fun has everything from bowling to mini golf to arcade games and laser tag. And next door is Starz Grille serving burgers, nachos, wings, salads, pizzas, sandwiches, steaks, seafood, and pasta. Check out their website for great family deals and specials!
http://www.planetfuncenter.com/
Silver Coast Winery

Just minutes from the beach, Silver Coast Winery has been making its own wines and offering tours for over 10 years. Here you can enjoy a wine tasting of their award-winning wines, tour the vineyard and production facilities, and browse the gift shop and art gallery. You can even take a bottle or two home with you!
http://www.silvercoastwinery.com/Home.html
Ocean Isle Beach & Sunset Beach Ghost Walks
Come and hear about forgotten Civil War battles, haunted trains, lost ships, ghost planes, lights that baffle scientists, whiskey smugglers, haunted plantations, amazing apparitions, legends of lost treasure, and haunted houses, all here on Ocean Isle and Sunset Beach!
The walks are approximately 1 mile with stops along the way. Tours leave from Salty's on Ocean Isle Beach and from the Trading Company on Sunset Beach. For more information about dates and tour times visit their website.
http://sites.google.com/site/oibghostwalk/home
Oak Island Lighthouse
Completed in 1958, the Oak Island Lighthouse was once the second brightest lighthouse in the world. Standing at 169 feet tall, the beacon of light on the Cape Fear River is available for tours year round. Reservations are required during winter months, but during the summer it is open to the general public with no reservations. All tours are free of charge.
Bald Head Island Lighthouse
Visit Bald Head Island Lighthouse and step back in time! The original tower was first built in 1795 but was torn down; the still standing lighthouse was erected in 1816. The lighthouse played an important part in American History and Civil War. You can tour the tour by boarding the Bald Head Island Ferry in Southport, NC and either taking the 5-minute walk or bike/golf ride to the lighthouse (there are no cars allowed on Bald Head Island!) Hours and rates are available on their website.
Myrtle Beach, SC
Brookgreen Gardens

This is a must-see Myrtle Beach attraction! Named one of the Top 10 Gardens in the US by Coastal Living Magazine, Brookgreen Gardens will take your breath away. The sprawling attraction offers visitors a unique opportunity to see beautiful sculpture, amazing gardens, and a zoo—all in one place!
Brookgreen offers guided tours, special programs, and exhibits for all ages. It's a wonderful place to visit no matter what season!
Broadway at the Beach
At Broadway at the Beach, you'll discover everything from shopping, to exciting dining options, to nightlife, to fun family activities. Broadway at the Beach is home to Ripley's Aquarium, Helicopter Adventures, Legends in Concert, NASCAR Speed Park, WonderWorks, The Palace Theater, and Myrtle Waves Water Park.
You can also find a lot of great restaurants including Hard Rock Café, Jimmy Buffet's Margaritaville, Key West Grille, Landry's Seafood, Johnny Rockets, Broadway Louie's and more!
And don't miss their seasonal fireworks shows! You'll never run out of things to do at Broadway at the Beach!
http://www.broadwayatthebeach.com/
Helicopter Adventures
Want to see Myrtle Beach and the Grand Strand from the sky? Well, you can! Nothing compares to hovering over the beautiful beaches and getting a bird's eye view of this beloved city. They offer three different tours, up to 52 miles long! Everyone is talking about Helicopter Adventures, take a flight and find out why!
http://www.helicopteradventures.com/
Ripley's Aquarium
Witness the world that exists under the sea at Ripley's Aquarium. Come face to face with the ocean's most fearsome predators, see the tropical fish of the Pacific, explore a live coral reef, and watch the gigantic rays in Ray Bay!
Ripley's is the perfect mix of education and fun for kids, they can interact with their favorite sea creatures and even see even touch some of them in their natural environment! You can even enhance your child's experience by including a pirate, sailor or mermaid package, so they can enjoy the aquarium dressed in a fun costume! This attraction is open 365 days a year, so you can visit anytime!
http://www.ripleyaquariums.com/myrtlebeach/
Legends in Concert
Do you wish you could see some of the greatest musical acts to ever grace the stage? You can at Legends in Concert! Visitors get to experience the World's Greatest Live Tribute Show featuring acts including Elvis, Aretha Franklin, The Blues Brothers, Elton John, Ricky Nelson, Barbara Streisand, The Beatles, Cher, Michael Jackson, Neil Diamond, Dolly Parton, Frank Sinatra, James Brown and many more. These musical performers are so good, you'll forget you're not hearing the real thing.
http://www.legendsinconcert.com/myrtle-beach
Myrtle Beach Sky Wheel

It's the centerpiece of the Myrtle Beach oceanfront boardwalk. The view from the top will take your breath away (if you're not afraid of heights!) It's a must-do for any vacationer! The climate-controlled gondolas take you to 200 feet above sea level and provide a spectacular view of the bustling boardwalk and the ocean below. Whether you take a trip up at night or during the day, there's no bad time view. The dazzling lights provide an enchanting glow that makes the area seem magical! Don't miss this cool attraction that's been lighting up the Myrtle Beach skyline since 2011.
http://myrtlebeachskywheel.com/
Medieval Times
Surrender to fun and witness battles of bravery and honor from the knights of Medieval Times. Enjoy dinner and an old-fashioned (really old fashioned) show as the knights compete to win top prize through jousting, sword fighting, and horsemanship. You'll get in the spirit and cheer on your knight while eating a four-course dinner in true medieval style, silverware free! It's fun for the whole family and full of excitement!
http://www.medievaltimes.com/myrtlebeach.aspx
Pirates Voyage
Pirates Voyage might just take ye breath away! Pirates battle each other on deck, in the water and in the sky on full-sized pirate ships. Fans will delight in the acrobatic stunts, live animals, and the original music. This is an experience the buckaroos will never forget! So come aboard the Jolly Roger for a swashbuckling good time!
Barefoot Landing
Barefoot Landing has a selection of more than 100 shops and restaurants for the whole family's enjoyment and shopping pleasure! You'll find something new around every corner at Barefoot Landing, whether it's a reptile park, live music, a carousel, or a chance to have your photo taken with a live tiger—this place has it all!
Barefoot Landing is home to attractions including Alligator Adventure, T.I.G.E.R.S, Alabama Theater, House of Blues, The Barefoot Princess, and more! And if you're looking for a bite to eat, you can also find Greg Norman's Australian Grille, Dick's Last Resort, T Bonz Gill & Grille, Wild Wing Café, and Fire Island Grille there too! There's so much to do at Barefoot Landing, you'll want to come back again!
Alligator Adventure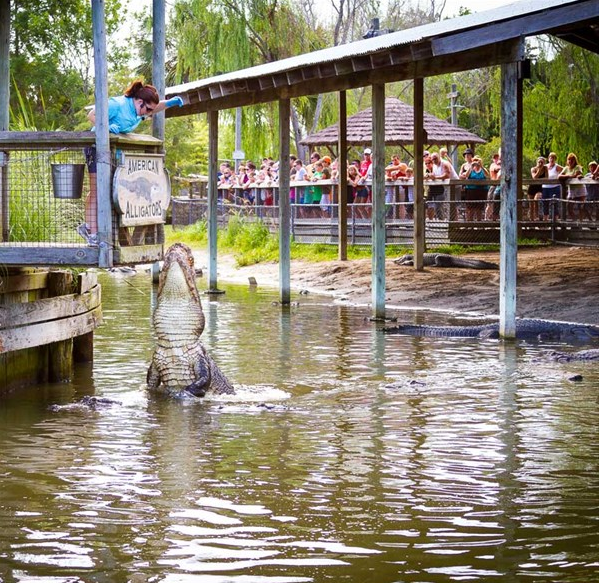 Alligator Adventure is one of the largest reptile facilities in the world. This is by far one of South Carolina's best attractions. Here you can see reptiles up close and even touch a few of them. Contrary to the name they don't just have alligators (although they have plenty of those!) they also have rare African servals, caracals, Egyptian fruit bats, gray wolves, frogs, kangaroos, marmosets, emus, kookaburras, tigers, lemurs, snakes, squirrel monkeys, warthogs, and turtles!
They've also got all kinds of alligators and crocodiles like albino alligators and utans. You can catch a live feeding of an alligator by the Croc Doc and see its powerful jaws in action! You can touch a real live alligator or a lucky participant might even get to wear a snake for a hat!
http://alligatoradventure.com/
Tanger Outlets
Got the shopping bug? Check out Tanger Outlets and get some great deals at brand name outlet stores including: Coach, Guess, Polo Ralph Lauren, Nine West, J. Crew, Michael Kors, Old Navy, Adidas, Izod, Nautica, The North Face, Reebok, Calvin Klien, Brooks Brothers, Banana Republic, Kate Spade and more! Check out the full list of stores and restaurants on their website and plan a shopping day at Tanger Outlets!
http://www.tangeroutlet.com/myrtlebeach17/
Pelicans Baseball
It's one, two, three strikes you're out at the ol' ball game! Come out to Pelican Stadium and see Myrtle Beach's own AA baseball team. The Pelicans have been playing on what's known as the "Field of Dreams" after being opened in 1999 after a tumultuous hurricane season. The team plays from April through September and you can get tickets from $8 to $13. It's a great family attraction and there's always plenty of fun in between innings with Splash the Pelican, Deuce the team's mascot dog, and Rally the Shark!
House of Blues Myrtle Beach Home to the best shows and the hottest concerts, the House of Blues in Myrtle Beach is no stranger to great bands and musical acts. If you're headed to the area check out their event schedule and see who's playing! You can also stop by the historic venue and have dinner at their famous restaurant Crossroads. It's located in Barefoot Landing, and trust us you can't miss it.
http://www.houseofblues.com/venues/clubvenues/myrtlebeach/
Wilmington, NC
Airlie Gardens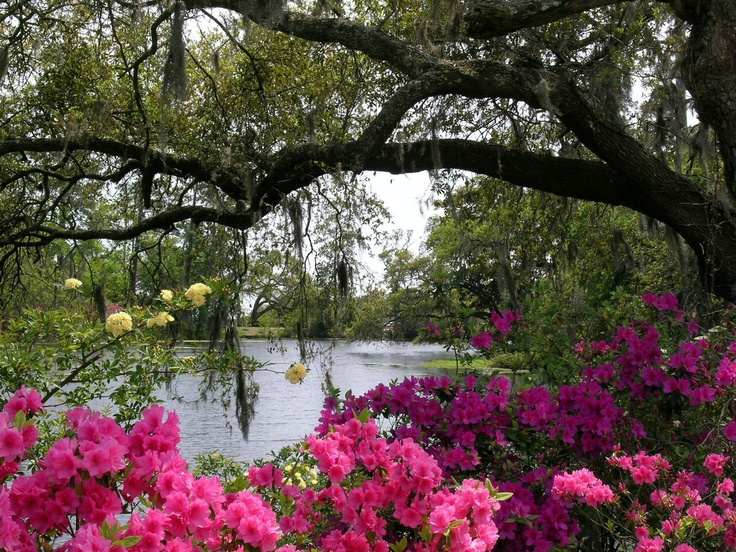 Airlie Gardens is a 67-acre park that has attracted nationwide attention for its breathtaking combination of formal gardens, unique wildlife, historic structures, walking trails, sculptures, views of nearby Bradley Creek, and more than 100,00 azaleas. Airlie Gardens is also home to the 467-year-old Airlie Oak Tree.
Airlie Gardens hosts a myriad of events from concerts to it's famed Enchanted Airlie, where the garden is lit with thousands of lights for a spectacular display. Airlie Gardens is open year round.
Bellamy Mansion
The Bellamy Mansion is one of North Carolina's most spectacular examples of antebellum architecture. The historic house turned museum is open for tours and gives a fascinating glimpse in to life in the pre-war South.
http://www.bellamymansion.org/
Battleship North Carolina
Step aboard the Battleship North Carolina and step back in time and let history come alive through the crews' stories. Open for tours all year round, this remarkable ship is docked in Wilmington. Go below deck and see the real living quarters, the controls, and even man the artillery!
Cape Fear Serpentarium
The Cape Fear Serpentarium is a unique facility located in the downtown district of historic Wilmington, NC. The Serpentarium is a 10,000 square foot structure which features 54 displays which house over 40 venomous species of snakes, 5 large bays with giant constrictors, and habitats housing 3 species of crocodile. Other displays are the homes for several large and exotic species of lizards. The Cape Fear Serpentarium is recognized as one of the world's foremost reptile collections.
http://www.capefearserpentarium.com/index.html
Carolina Beach Boardwalk
Ranked one of the top 10 boardwalks in the country by Food & Wine magazine, a stroll on the Carolina Beach Boardwalk features classic seaside family fun with shops, restaurants and nightlife entertainment. The boardwalk and amusement park is open Memorial Day through Labor Day every year. This local spot has become a favorite landmark for both vacationers and residents alike, embodying the spirit of summer at the beach.
http://www.visitcarolinabeachnc.com/things-to-do/carolina-beach-boardwalk
Old Wilmington Ghost Walk
Come hear the dismal accounts behind our most unfortunate wretches and discover the poor lost souls that still linger in the Port City. Hear tales past and present, including the most recent encounters with these spirits. Stroll beneath a canopy of centuries-old live oaks, their cryptic limbs dripping with Spanish moss, and hear tales of murder and mayhem. And if you dare, tread upon the unmarked graves of thieves, murderers and other less pitiful souls.
http://hauntedwilmington.com/ghost_walk.html
Wilmington Trolley Co. Tours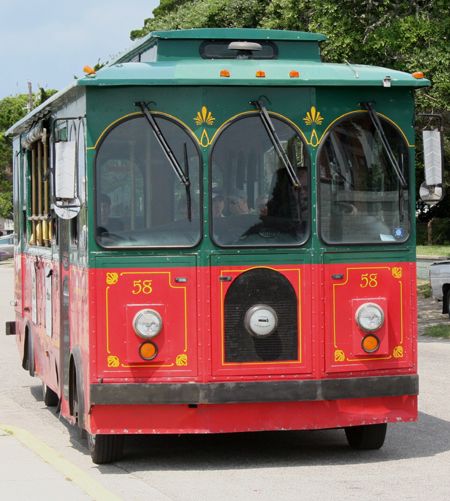 Jump on board a trolley and weave through the bumpy cobblestone streets and hear the stories of the homes, people, and events that make Wilmington the historical city it is. The 45-minute tours depart from Water Street between Market and Dock Streets.
http://wilmingtontrolley.com/tours.htm
Mayfaire Town Center
Mayfair Town Center offers the best in name brand shopping all within walking distance, great dining options, a movie theater, and so much more! Also, home to summer concerts and kids events, there's always something happening at Mayfaire!
Wilmington Hollywood East Location Walk
Join one of Hollywood East's most entertaining & self-important Directors on a name-dropping, movie & TV extravaganza through one of America's largest living film sets; Wilmington, North Carolina! See real locations for some of Wilmywood's biggest movies & TV Shows.
http://hollywoodnc.com/hollywood_location_walk.html
Horse Drawn Carriage Tours- Springbrook Farms
Take a horse-drawn carriage tour through downtown historic Wilmington NC and hear tales of the Old South. This charming tour will give you an up-close look at the port city. Tours start on Market St. between Water and Front Streets.
http://horsedrawntours.com/index.html
Sea Turtle Camp
Sea Turtle Camp is a life-enriching marine biology summer camp experience for all ages. Have you ever looked into the enchanting eyes of a living, breathing 200 pound sea turtle? Sea Turtle Camps offer a variety of programs designed to share this powerful experience with others, whether it is school groups, teen summer camps, travel programs, or adult retreats.
Wrightsville Beach Parasail Company
Want to soar over the Atlantic Ocean and see the sights from a whole new perspective? Then Wrightsville Beach Parasail Company is perfect for you! They've been in business since 1998 and sent over 5,000 people up in to the sky!
http://wrightsvilleparasail.com/
The North Carolina Aquarium at Fort Fisher
The North Carolina Aquarium at Fort Fisher attracts thousands of visitors each year. This outstanding attraction is deservedly one of the most popular in the area. Featuring a 235,000-gallon saltwater tank, the aquarium showcases both freshwater and saltwater aquatic life. The focal point of the Aquarium is the Cape Fear Shoals exhibit. The huge, two-story tank displays a vast array of sea life including moray eels, stingrays, sharks and grouper plus a multitude of other varieties of sea life. At feeding time, divers underwater answer questions from the audience as they feed the fish. There are more than 2,500 sea creatures are on display at the North Carolina Aquarium at Fort Fisher.
http://www.ncaquariums.com/fort-fisher
Poplar Grove Plantation
Spend a day exploring one of the oldest surviving peanut plantations in North Carolina. The plantation is home to fun events including a farmers market, cooking classes, field trips, plant sales, tours, an animal farm and so much more. Learn about the history of Poplar Grove and enjoy all kinds of family fun!