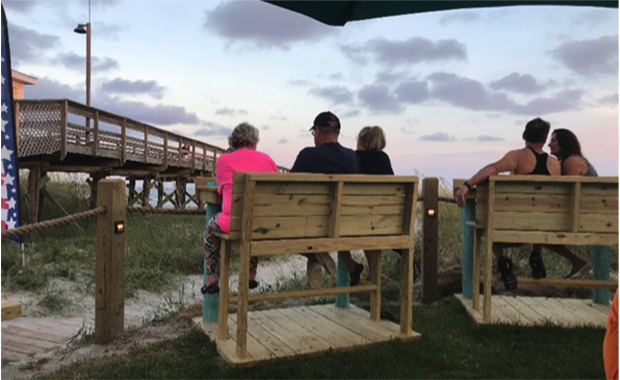 The OIB Pier Backyard is on the ocean side of the pier house where we offer a relaxed grassy yard for guests to sit outside and people watch. There is no other place on the island with a pier view like this to enjoy while eating breakfast, lunch, dinner, ice cream, or drink a beer, wine, and wine slushies. Tables, benches, and chairs are available. Guests can bring their own beach chairs as well.
The OIB Pier Backyard also has a stage for live music. During the summer small bands play. 'Open Mic Night' is also very popular with locals and tourists as it gives budding singers and musicians an opportunity to perform to a friendly crowd in a beautiful setting. These events will be announced on Facebook. Location of Community concerts series
New for 2022 student performances from Free Spirit Conservatory of the Arts in Sunset Beach will have small stage opportunities to perform live as a part of their 'Community Concerts Series.'
Also, OIB Pier backyard is available for small memorial gatherings for our frequent customers that truly love the pier. No more memorial plaques can be placed on the pier anymore however.
Reservations for small gatherings can be emailed to [email protected].